«︎ Back to Recipes
Side Dish
Sweet Potato Orange Mousse with Cinnamon Fig Balsamic Reduction and Hazelnuts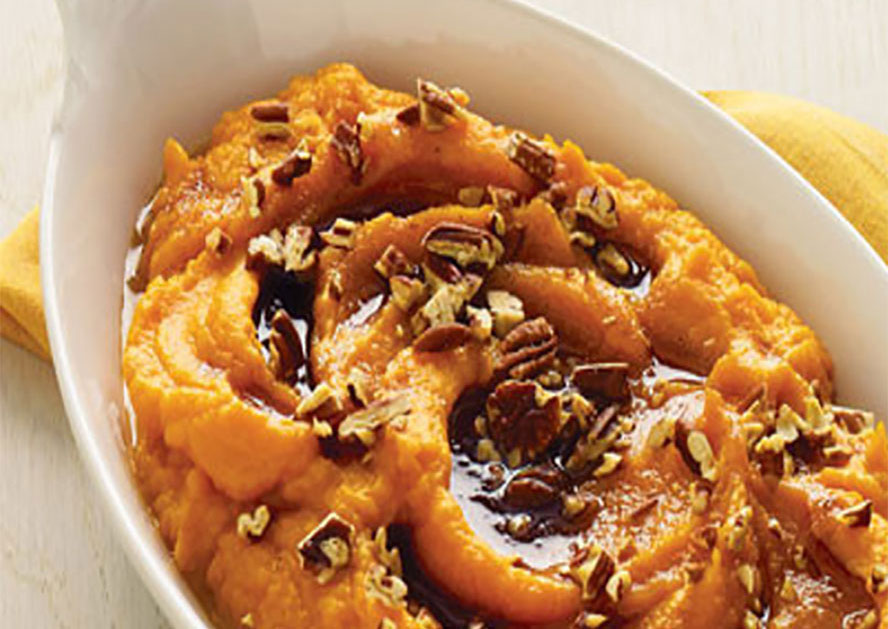 2 cups sweet potatoes cooked and cooled (2 large potatoes)
1 tsp pure vanilla
1/8 tsp salt
1/2 cup granulated sugar
1 tsp orange zest
juice from one orange
6 tbsp cinnamon pear balsamic vinegar (or your favorite balsamic)
Reduction (1/2 cup):
1 to 2 tbsp fig jam
1 tbsp orange zest
1 tbsp extra virgin olive oil
1/4 cup hazelnuts chopped
2 tbsp granulated sugar
1 tsp cinnamon
Poke 2 large sweet potatoes all over with a fork and microwave for 8-12 minutes or until fork tender. Let cool for 10 minutes then scoop potato into a medium bowl.
Add Smith's Vanilla Ice Cream, vanilla, salt, sugar, orange zest and juice to the potato and mix thoroughly with a spatula. 
Transfer mixture to a blender and blend for 2 minutes, scraping down the sides intermittently. Refrigerate in a covered dish for an hour or until ready to serve.
In a non-stick frying pan, heat oil over medium heat and toast hazelnuts until golden brown. Roll nuts around in the cinnamon-sugar mixture on a plate.
In a non-stick pan, heat balsamic vinegar (1/2 cup) over medium heat until it thickens to yield 4 tbsp, add fig jam.
Spoon sweet potato into serving glass. Drizzle with cinnamon-fig reduction, sprinkle hazelnuts and orange zest over the top of each serving.