«︎ Back to Recipes
Breakfast
Orange Juice & Zesty Pancakes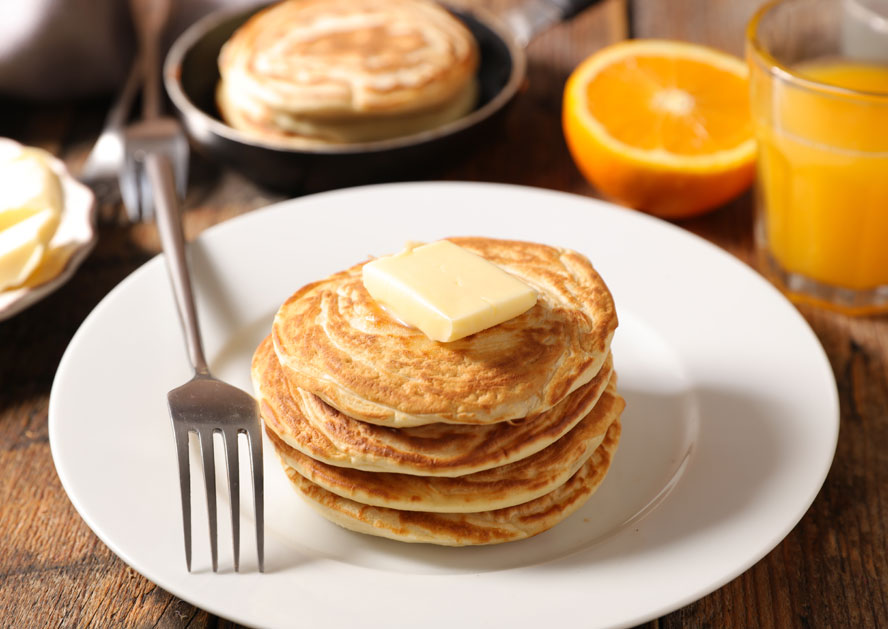 3/4 cup Smith's 100% Orange Juice
2 Tbsp orange zest, finely grated
3/4 cup Smith's Buttermilk (or reg. Smith's Milk)
3 eggs
2 cups all-purpose flour
1/4 tsp salt
1-1/2 tsp baking powder
1/2 tsp baking soda
1/4 cup sugar (or sugar substitute)
1 tsp cinnamon
5 Tbsp melted butter
Vegetable oil
In a bowl, whisk Smith's 100% Orange Juice, orange zest, buttermilk and eggs until smooth.
In another bowl, combine flour, salt, baking powder, baking soda, sugar and cinnamon.
Stir the flour mixture into the orange juice mixture and blend well.
Add melted butter and stir until smooth.
Heat skillet over medium heat, add oil to hot skillet.
Pour 1/4 cup batter into skillet. When bubbles appear on top of pancakes and the edges start to look dry, flip over and brown the other side.
If heat seems too hot, turn heat down.
Remove pancake to a plate and keep warm in a 200-F oven until all are done.