«︎ Back to Recipes
Dessert
Mocha Pecan Cake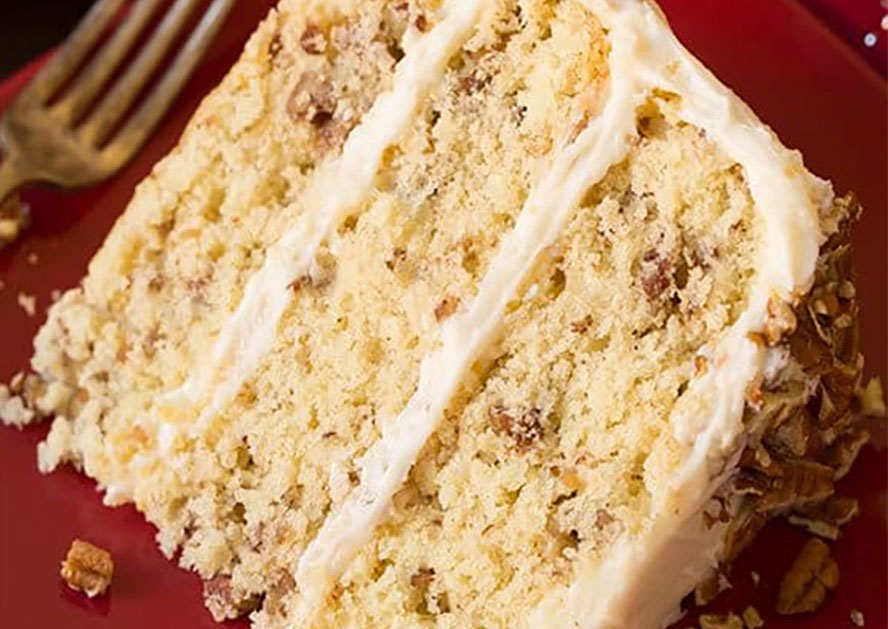 Cake:
Pecans:
Frosting:
Drizzle:
Heat oven to 350 F.
Line bottoms of three 9" round cake pans with parchment paper circles. Spray sides of pans lightly with cooking spray. Set aside.
In a large mixing bowl, stir together cake mix, pudding mix and espresso powder. Add Smith's sour cream, Smith's milk, coffee, oil and eggs. Beat on low speed until combined. Beat on medium speed for 1-2 minutes until smooth. Divide into prepared pans.
Bake for 15-20 minutes or until a toothpick inserted in center comes out clean. Remove from oven and cool completely.
Meanwhile for pecans, in a small deep bowl, beat egg white and Smith's orange juice until frothy.
In a medium bowl, stir together sugar, brown sugar, cocoa powder and espresso powder. Add egg white mixture. Stir until evenly combined then stir in pecans.
Line a large baking sheet with parchment paper. Spread pecan mixture on parchment-lined baking sheet. Bake at 350 F for 20-25 minutes, stirring every 7-8 minutes until pecans are glazed.
Remove from oven and cool completely before separating pecans.
For frosting, in a large mixing bowl, stir together powdered sugar, cocoa powder, and espresso powder. Add melted butter, Smith's half & half and extract. Beat on low speed until smooth.
To assemble, place one cake layer on a plate and spread thinly with frosting. Repeat steps twice.
Spread remaining frosting on sides of cake. Immediately sprinkle pecans evenly on top and sides of cake, pressing into frosting.
Refrigerate uncovered for 30 minutes.
Meanwhile, for drizzle, heat cream over low heat in a small saucepan. Bring to a simmer. Place chocolate in a small bowl and pour cream over chocolate. Stir until chocolate is melted.
Cool for 5 minutes then place in a 1-quart resealable plastic bag. Snip 1/8" off a bottom corner of bag.
Squeeze bag to drizzle mixture on top of cake as desired. Allow drizzle to harden before slicing to serve.