«︎ Back to Recipes
Dessert
Holiday Red Raspberry Cream Rolls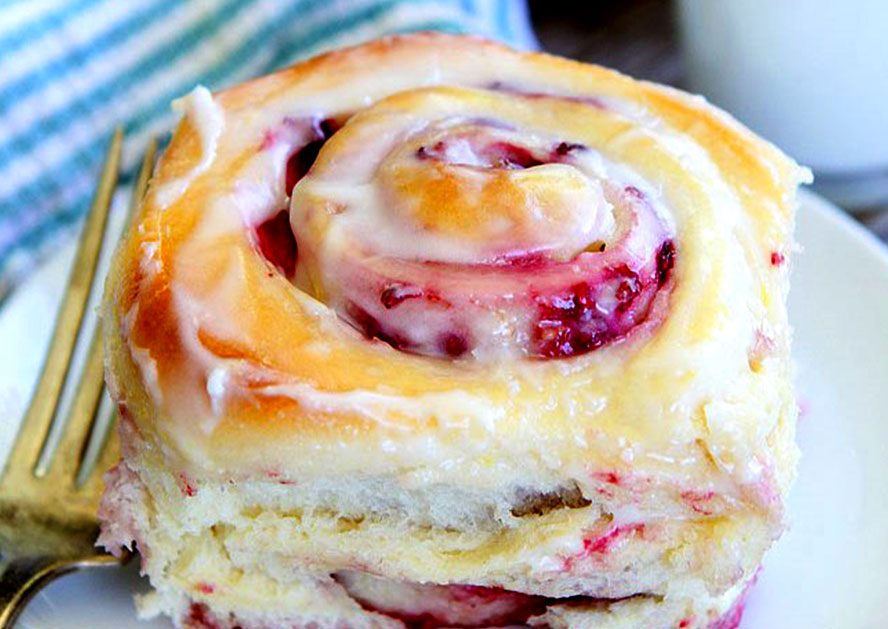 Roll dough:
1/4 cup warm water
1-1/2 Tbsp yeast
1 egg
1 cup Smith's Eggnog
1/2 cup Smith's Whole Milk
1/4 cup Smith's Sour Cream
1/4 cup vegetable oil
1-1/2 tsp vanilla
1/3 cup sugar
1-1/2 tsp salt
4-1/2 cups all-purpose flour
8 oz cream cheese
1/2 cup sugar
1/2 cup red raspberry pastry filling
Butter cream icing:
Rolls:
In a 4-quart mixer, dissolve yeast in water until bubbles arise. Add ingredients in order given – egg, Smith's eggnog, Smith's milk, Smith's cottage cheese, Smith's sour cream, oil, vanilla, sugar, salt and 3 cups flour.
Stir thoroughly, then mix on speed 4 for 3 minutes.
Reduce speed to stir, add rest of flour, 1/4 cup at a time.
When all added, knead on speed 2 for 10 minutes or until it forms a smooth ball. Cover and set in a warm place, let rise 1 hour.
Pour dough on floured surface. With rolling pin, roll out to 1/2" thick
Spread on cream cheese mixture, then raspberry filling.
Roll up. Cut 1" thick slices. Put in greased baking pan.
Let rise 30 minutes, then bake at 350 F for 15 to 20 minutes.
Icing:
Cream butter till light in color.
Slowly add powdered sugar. It's going to be dry.
Add vanilla and Smith's Half & Half.