«︎ Back to Recipes
Dessert
Grandma's Nut Horns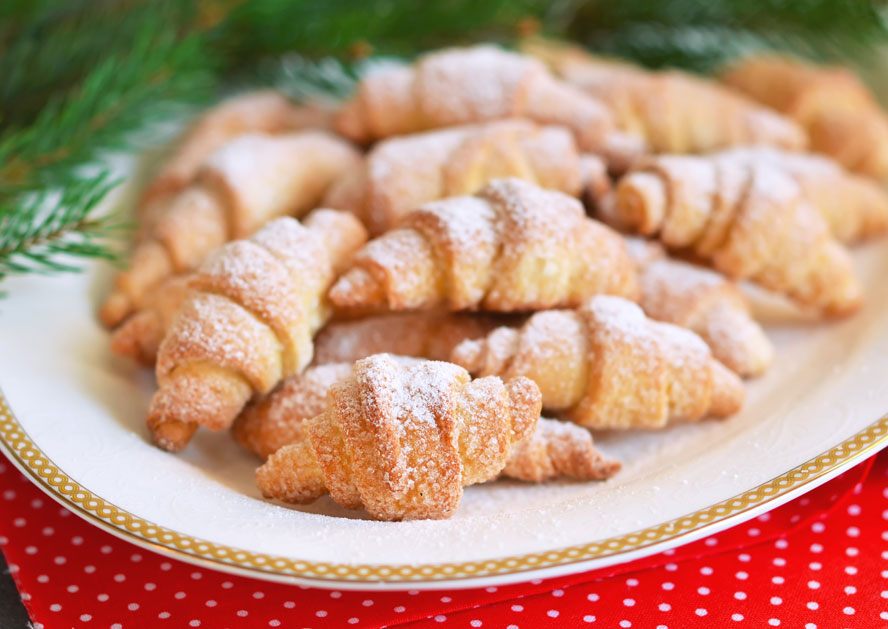 3 cups flour
1 cup butter
2 tsp. warm water
1 package yeast (1 of the 3 envelopes)
3 egg yolks
1 tsp. vanilla
1 cup Smith's sour cream
for the walnut filling
1 lb. ground walnuts
1 cup sugar
3 tsp. vanilla
1/2 cup Smith's milk or just enough to make spreadable
Melt the yeast in warm water and set aside.
Put 3 cups flour in a large bowl and cut the butter in.
Make a well in the center of flour and put the 3 egg yolks, yeast, vanilla and Smith's sour cream in center. Mix on low with dough hook until fully blended. Chill for several hours.
Make walnut filling by mixing together ground walnuts, sugar, vanilla and Smiths milk.
When dough is chilled, divide into equal amounts to roll to about 9 inch circles at 1/8 inch thickness.
Cut into 8 triangle wedges and fill with about a tsp. of walnut filling.
Roll up into a crescent shape and bake them on 350°F for 15 to 17 minutes or until just slightly browned.
Cool and sprinkle with powdered sugar. Store in a tightly sealed container. These freeze for at least 2 months if sealed well.