«︎ Back to Recipes
Dessert
Glazed Apple Cream Pie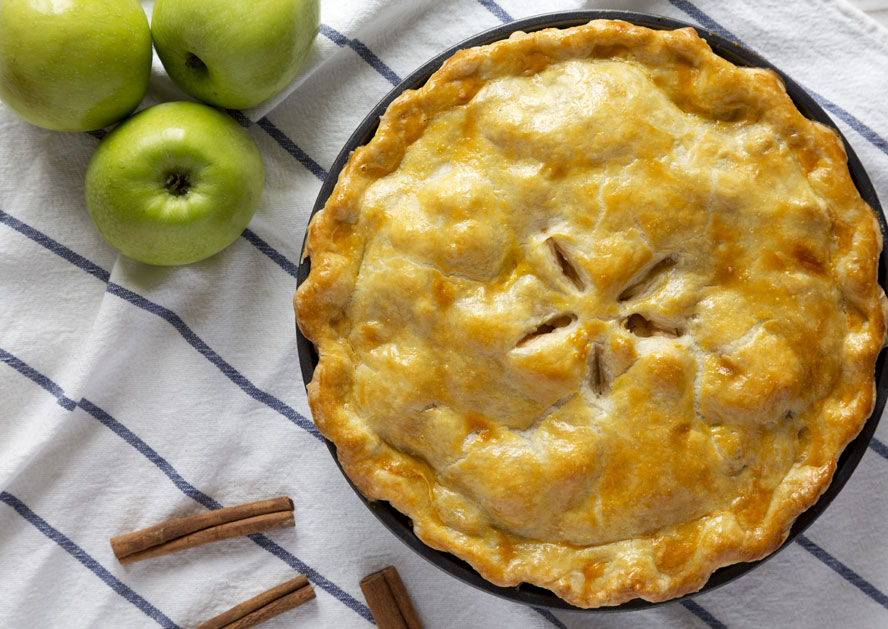 Double Pie Crust:
3 cups pastry flour
1 tsp salt
1/2 cup shortening
1/2 cup cold butter
1/2 cup ice cold water
1 Tbsp white vinegar
Filling:
Apple Layer:
4 large tart baking apples peeled and sliced thinly
1 Tbsp flour
1/2 tsp cinnamon
Glaze:
1/2 cup powdered sugar
1 Tbsp Smith's Whole Milk
1/2 tsp vanilla extract
1 Tbsp softened butter
Prepare pie crust.
Heat oven to 400 F. In a medium sauce pan, combine sugar, Smith's milk, Smith's heavy whipping cream and butter. Heat until hot and butter is melted, stirring occasionally.
In a small bowl, combine 4 Tbsp cornstarch and 4 Tbsp Smith's Whole Milk. Blend until smooth. Add to mixture in saucepan; cook until thick and bubbly. Remove from heat and stir in vanilla.
In a medium bowl, combine apples, flour and cinnamon; mix well. Pour half the filling mixture into crust-lined pan. Arrange apple slices evenly over filling. Pour second half of filling mixture over apples. Top with second crust; cut slices in top crust to vent.
Bake at 400 F for 30 to 40 minutes (or until apples are tender). Cool for about 15 minutes.
Meanwhile, in a small bowl, combine glaze ingredients; Blend until smooth. Spread glaze over pie. Refrigerate for 1-1/2 hours before serving. Can be served warm or cold. Store leftovers in refrigerator.