«︎ Back to Recipes
Dessert
Eggnog Bars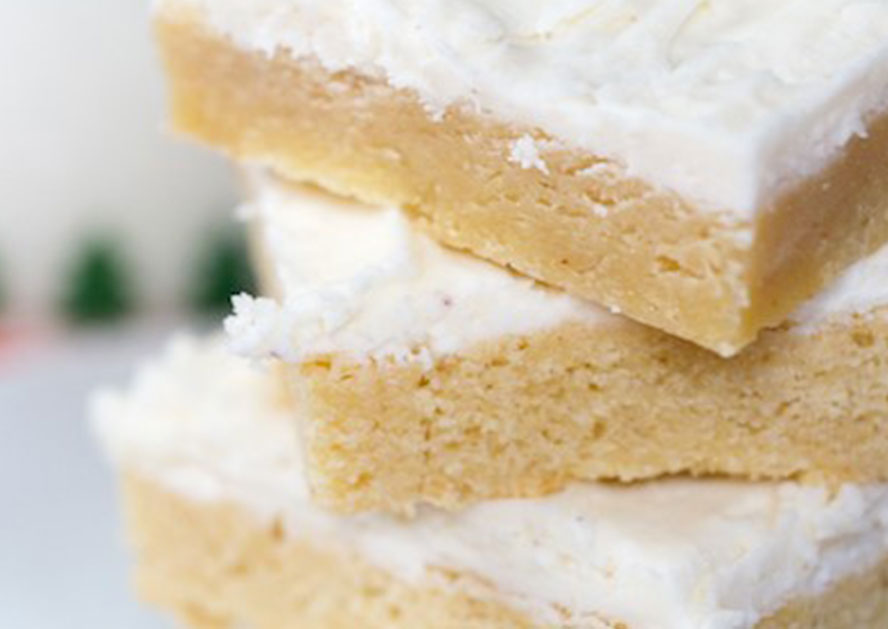 Bars:
1-1/4 cups softened butter or margarine
1 cup sugar
1 large egg
1 cup Smith's Eggnog
1 tsp vanilla
2-3/4 cups flour
1/2 tsp nutmeg
3/4 tsp salt
Frosting:
1/4 cups butter or margarine, softened
3 cups confectioners sugar
1-1/4 tsp rum flavoring
1/4 tsp vanilla
1/8 tsp nutmeg
3 Tbsp Smith's Milk
red and green sugar (optional for decorating)
Bars:
Preheat oven to 350 F. Grease 10" x 15" cookie pan.
In large bowl combine cream, butter and sugar.
Add egg, eggnog and vanilla; stir.
Add dry ingredients and mix well.
Spread evenly in pan. Bake 18-20 minutes (until edges are golden brown and center looks dry).
Remove from oven and cool on wire rack.
Frost when cool and cut into bars. These cookies freeze well.
Frosting:
Cream margarine or butter.
Add remaining ingredients and beat until smooth.
Spread onto bars. Sprinkle lightly with red and green sugar, if desired.