«︎ Back to Recipes
Side Dish
Creamy Potatoes au Gratin (Gluten-Free)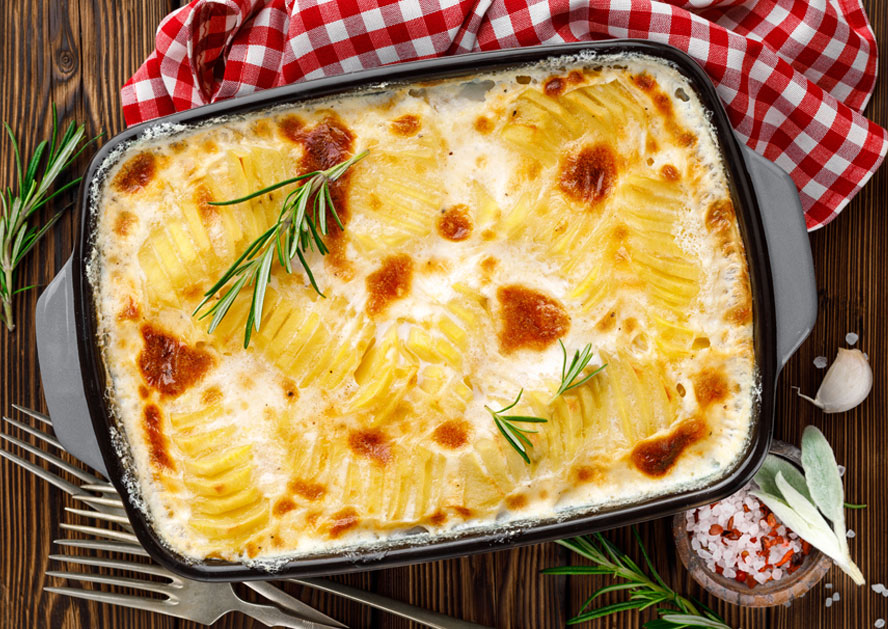 5 lb russet potatoes, peeled
1 Tbsp kosher salt
1 tsp nutmeg
1 tsp white or black pepper
1 Tbsp butter
1 garlic clove, cut
16 oz Swiss or Gruyere cheese or combination, shredded
Preheat oven to 350 F.
Using food processor or mandolin, slice potatoes thinly and evenly into rounds.
Add potatoes and Smith's Half & Half to large pot.
Cook, stirring frequently, over medium heat until starch releases from potatoes and makes the liquid thick enough to coat the back of the spoon, about 10 to 15 minutes.
Add salt, nutmeg and pepper to pot, stir. Remove from heat.
Grease a glass 9" x 13" baking dish with butter, rub dish with cut garlic clove.
Pour potato mixture into dish, smooth the top evenly with a spatula.
Evenly scatter shredded cheese over potatoes.
Bake at 350 F for 60 minutes, until bubbly and golden brown.