«︎ Back to Recipes
Dessert
Chai Pumpkin Mousse Pie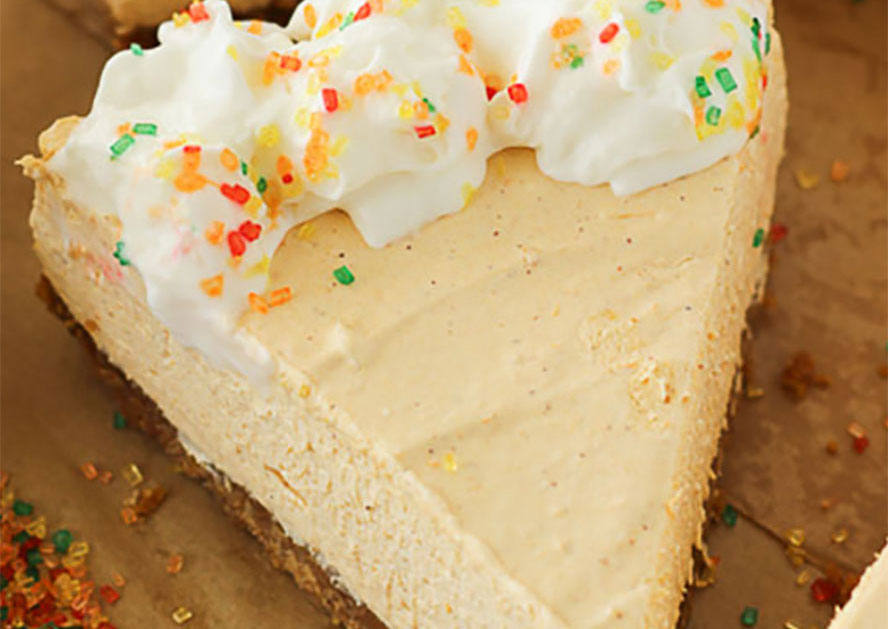 Crust:
2-1/2 cups unbleached all-purpose flour
2 tbsps sugar
1 tsp salt
1/2 cup (1 stick) chilled unsalted butter, diced
1/2 cup chilled solid vegetable shortening
1/4 cup plus 2 tbsps Smith's Buttermilk
Mousse:
3 tsps unflavored gelatin
2 tbsps cold water
1 can (15 oz) pumpkin (not pumpkin pie filling)
1/2 cup Smith's Milk
1 cup sugar
1/4 tsp salt
2 tbsps chai mixed blend spice
1/2 tbsp pumpkin pie spice
1/8 tsp cloves
2 tsps vanilla extract
2-1/4 cups Smith's Heavy Whipping Cream
Sprinkle sugars orange and green topping
3/4 cup Smith's Heavy Whipping Cream
Combine flour, sugar and salt in large bowl. Add butter and shortening. Cut in using hands or pastry blender until mixture resembles coarse meal.
Add Smith's buttermilk and stir with fork until moist clumps form. (Dough can also be prepared in processor. Using on/off turns, cut butter and shortening into dry ingredients until coarse meal forms. Add buttermilk and process just until moist clumps form.)
Press together to form dough. Divide dough in half. Gather dough into balls, flatten into disks. Wrap separately and chill 1 hour.
Let dough stand at room temperature to soften slightly before using.
Using one half of dough, roll out to 2 inches larger than pie plate. Lift and form into plate. Fold under edges and flute.
Bake 15 minutes with pie weights at 425 degrees, remove weights and continue baking 8-12 minutes until golden brown. Cool completely.
Combine gelatin and water in a small bowl and set aside.
Combine chai spice and pumpkin pie spice in a small bowl.
In a small saucepan, combine remaining ingredients except whipping cream.
Stir over medium heat until warm (130 degrees-150 degrees) but not boiling. Remove from heat.
Place bowl with gelatin/water mixture in larger bowl with very hot water to melt gelatin. Add to pumpkin mixture. Set aside.
In a cold bowl, whip 2-1/4 cups Smith's whipping cream to very soft peaks. Do not whip stiff.
Before adding whipping cream, check pumpkin puree temperature; it should be between 80 degrees-110 degrees and feel neither cool nor warm.
Add whipping cream to pumpkin puree and fold together. Remove 1/3 cup of mixture and set aside.
Pour/scoop into pie shell and place in refrigerator until ready to serve.
Combine 2/3 cup heavy chilled whipping cream and beat with reserved pumpkin. Whip till firm peaks.
Decorate with cream and sprinkle sugars on.